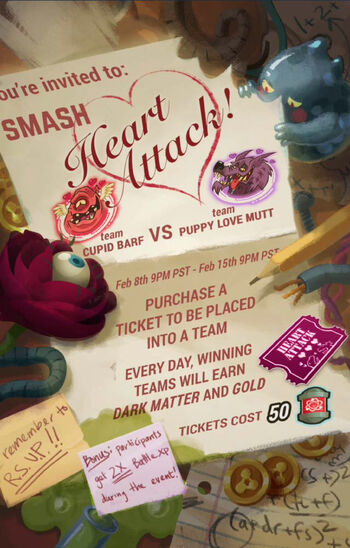 Heart Attack was an Event that was held in 2015 prior to Valentines Day.
Date: 8 - 15 February 2015
Entry
Participants has to purchase a Ticket for 50 Element X in order to enter the event.

Participation
Once the ticket was purchased, participants were randomly placed in either Team Puppy Mutt or Team Cupid Barf. At that point, the participant's Avatar changed to the corresponding Avatar for their team, which would remain fixed in place until the event concluded.
Participants needed to attack members of their rival team to reduce their Medals, while adding to their own. The team with the most Medals would then recieve a reward for their efforts.
Hints and Tips
If you don't see any members of your rival team in the Players List, exit and enter it again so that the list will refresh. "Rinse and Repeat" until you see someone from your rival team
If there aren't any members of your rival team in your Players List, attack someone else, the Medals will still count towards your team's total
Do not attack members of your own Team. While you will gain the medals, they will lose them which will result in your team having a zero net result
Rewards
All participants received a Puppy Mutt and Cupid Barf Avatar, as well as double XP for all their Monsters until the conclusion of the event.
Note: If players purchased an XP Booster Bundle, the bonus XP effects do not stack. Instead, the time that they gained bonus XP will was added to the end of the Heart Attack event.
All members of the winning team will received the following rewards...
Weekday Team Battle
Date: Daily from 8 February 2015 - 13 February 2015
Rewards: 100,000 Gold & 20 Dark Matter
Weekend Team Battle
Date: 9pm US PST 13 February 2015 - 9pm US PST 15 February 2015
Rewards: 250,000 Gold & 100 Dark Matter
Winners
Most Valuable Players (MVPs) are the players that contributed the most SMASH Medals to their team's tally.
Round 1: 8 February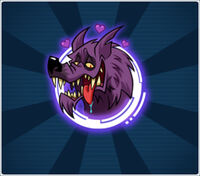 Winner: Team Puppy Mutt
Team Puppy Mutt's MVP
Magikarp: 501 Medals
Chopao: 490 Medals
Pinky: 456 Medals
Team Cupid Barf's MVP's
Nixstress: 747 Medals
Nyn: 481 Medals
Perseus: 407 Medals
Round 2: 9 February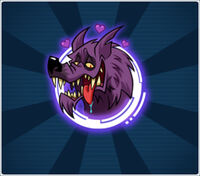 Winner: Team Puppy Mutt
Team Puppy Mutt's MVP
Dethklok: 996
KongQuest: 991
Mike9465: 558
Team Cupid Barf's MVP's
Ronin_Delta: 376
Cobius: 362
Justicar: 335
Round 3: 10 February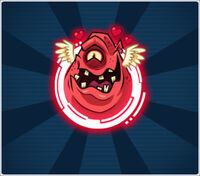 Winner: Team Cupid Barf
Team Puppy Mutt's MVP
Chopao: 424 Medals
JayneCobb: 411 Medals
Dreamskye: 335 Medals
Team Cupid Barf's MVP's
Nixstress: 855 Medals
Nyn: 534 Medals
Ronin_Delta: 395 Medals
Round 4: 11 February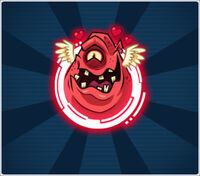 Winner: Team Cupid Barf
Team Puppy Mutt's MVP
KongQuest: 1077 Medals
S-A-V-A-G-E: 736 Medals
JayneCobb: 569 Medals
Team Cupid Barf's MVP's
Agent 7: 814 Medals
Sh-a-i-sh-a-v: 423 Medals
Cia-Later: 370 Medals
Round 5: 12 February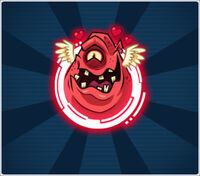 Winner: Team Cupid Barf
Team Puppy Mutt's MVP
___ : ___ Medals
___ : ___ Medals
___ : ___ Medals
Team Cupid Barf's MVP's
___ : ___ Medals
___ : ___ Medals
___ : ___ Medals
Weekend Team Battle: 13-14 February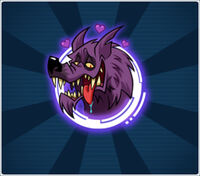 Winner: Team Puppy Mutt
Team Puppy Mutt's MVP
___ : ___ Medals
___ : ___ Medals
___ : ___ Medals
Team Cupid Barf's MVP's
___ : ___ Medals
___ : ___ Medals
___ : ___ Medals